15" Transitional Steamer Module
SM15TF/S
THE HEALTHY KITCHEN RUNS ON STEAM
Prepare healthier, more flavorful meals with the Wolf 15" steamer in your kitchen. This marvelous little module seals in the flavor and nutrients of vegetables, grains, meats and more, but also has the chops to prepare Norwegian salmon en papillote and other delicacies. With the basket accessory, it even has sous vide capabilities – think steak or chicken cooked to succulent perfection.
Use the Wolf steamer module to steam cook all manner of foods, as well as for proofing bread dough, melting chocolate and slow cooking roasts, stews and soups. Crafted of heavy-duty stainless steel, it has a large, 20-cup capacity with two stackable steel insert pans, one solid and one perforated. Best of all, it's just one of eight Wolf modules that bring specialty cooking into your kitchen.

less
Product Features
Rigorously tested to ensure dependability

Each and every Wolf appliance is rigorously stress-tested to perform for over twenty years of daily use and is backed by the strongest warranty in the industry.

Create a Custom Cooking Array

Integrated design and slim 15" width lets you use it à la carte with other modules for a custom cooking array. Wolf modules have a streamlined control layout and frame – to seamlessly pair with one another.



Slow cooks too

The Wolf steamer module can also function as a slow cooker for 8-10 hours, creating delicious stews, soups and more.

What can't it do?

Just to note a few of our module's other uses: double boiling, proofing bread, warming food, melting chocolate, bringing leftovers back to moist and flavorful.

Stackable stainless steel pans

Use the perforated pan for steaming vegetables, meats, fish, while the solid pan is great for rice, couscous, chocolate and more.

Electronic drain

Touch DRAIN on the keypad, and the drain valve will open for 2 minutes – long enough to drain a full capacity of water.
Exceptional customer support

Whether you're shopping for appliances or have questions about those you already own, the Sub-Zero, Wolf, and Cove Customer Care team has a reputation for service that's as exceptional as its products.

Powerful 2700-watt heating element

Quickly steam meats, vegetables, eggs, custard and grains beautifully and healthfully, retaining more nutrients and bringing out the natural flavors.


SOUS VIDE CAPABILITY

Using the basket accessory, you can enjoy this professional cooking method to create the most succulent, perfectly done steaks, chops, chicken and more. Control panel adjusts in 1° increments to provide the steady, accurate temperatures you need.



Large capacity

Holds a full 20 cups of liquid – great if you have a large family, do a lot of entertaining, or just eat a lot of fresh vegetables. You can also use it to hold mulled wine and other treats at the ideal temperature throughout your holiday party.

Advanced Lid Seal

Lid holds in steam for better temperature and moisture control.

Specifications and Downloads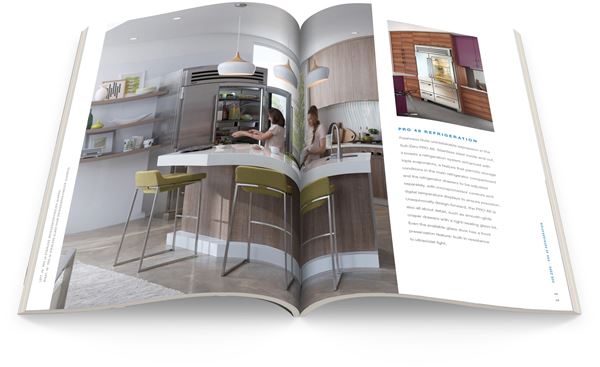 Request a brochure
Dozens of pages of inspiring photos, product features and more in print and online. Discover a world of beautiful, high-performance and top-quality products for your dream kitchen with this free guide from Sub-Zero, Wolf, and Cove.
Receive a printed brochure
Award-Winning Design Professionals
Partnering with a design professional to create your new kitchen will ensure that the end result matches your vision and suits your lifestyle. See below for a listing of award-winning design professionals in your area.
Fitchburg, WI (53711) Change Location
Deep River Partners - Milwaukee

de Giulio kitchen design, inc.

KDC 2017-18
KDC 2015-16
KDC 2013-14
KDC 2010-12

Snaidero - Chicago

KDC 2013-14
Located at specific dealers near you, the Living Kitchen features Sub-Zero, Wolf, and Cove appliances in real kitchen settings and more resources for selecting the right products for your dream kitchen. Look inside a Living Kitchen.